You must have heard about carpooling from any of your friends or relatives and they must also be using it while commuting somewhere. If you have questions related to carpooling in your mind and you want to know what is carpooling and what are its benefits then you are on the right platform. Because in today's article we will talk about carpooling only where you will learn about how to do carpooling, for whom carpooling is right and for whom not, what are the advantages and disadvantages of carpooling etc.
So let's start without any delay and know The Benefits of Carpooling.
What is carpooling– The Benefits of Carpooling.
Carpooling is an idea to share car journeys in which more than one person travels in a car. That is, if you are going alone to some place by driving your private car and sit on the vacant seats for some rides going to the same place which in return give you money, then it is called carpooling .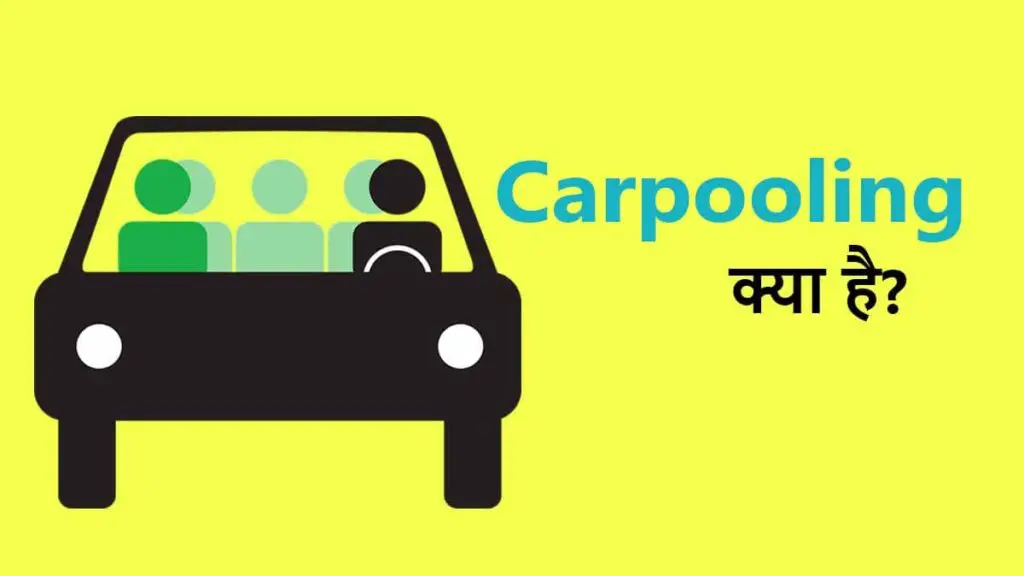 Carpooling reduces the travel expenses of each passenger such as fuel cost, toll payment and also does not feel lonely while driving together in the same vehicle with multiple people traveling together. Along with this, carpooling also causes less damage to the environment, as it reduces air pollution, carbon emissions and traffic congestion on the roads and also reduces the need for parking space.
Carpooling is also promoted by the government. Especially when pollution becomes high or fuel prices increase. Carpooling is a good way to utilize the full seating capacity of the car.
How to Carpool?
1. Contact your company, school or other organizations
The best way to set up a carpool is to find people traveling to the same destination. Many schools, companies and organizations maintain websites for carpooling so that travelers can connect with each other. They also use e-mail for this.
2. Find passengers by communicating with neighbors
Before installing a carpool, tell your neighbors that you are going to install a carpool. You can advertise on neighborhood message boards or create a flyer to post near your home.
3. Use the Carpooling Website and App
You can use websites or apps like BlaBlaCar, SRide, Uberpool etc. To use these apps, you have to create your profile on them and then you can include your itinerary and destination in it. After this you can contact passengers going to the same destination for carpooling.
The Benefits of Carpooling.
Some of the advantages of carpooling are as follows:
Saves money – Carpooling splits fuel and parking costs, reducing your spending by 50% or more. The more people traveling in the car, the more you will be able to save. Carpooling is economically beneficial to the society. With this, you are not only reducing your savings but also the expenses that we pay for works like new road construction, road maintenance and pollution reduction. 
Benefits the environment – ​​The more carpooling is used, the less traffic congestion will be on the roads, which will reduce environmental pollution.
Travel is convenient – ​​Carpooling offers the convenience of commuting with less stress than driving alone and with the added bonus of companionship.
MAKE NEW FRIENDS – You get to meet new people during carpooling which is a great way to make new friends.
Increases the life of the vehicle – With shared driving, your vehicle runs less, which increases the life of the vehicle.
There is less traffic – when three people are carpooling, there are less two vehicles on the road.
Disadvantages of Carpooling
While there are some advantages of carpooling, there are also some disadvantages which you can read below .
Low Privacy – Some people like to be quiet and calm while driving or traveling. This is not possible in carpooling. If you want to talk on the phone during travel, then you have to do it in front of everyone, which reduces your privacy. Apart from this, if a sick person sits in the car, then you may also get sick.
There will be no freedom with your schedule and activities – as many people travel together you will have to leave on time. So if you have to do some shopping after work, have lunch or go for some other work then it will be difficult, because you have to think about all the people who will travel with you. Apart from this, if one person is late then everyone's schedule will be affected, so it is very important to be aware of the time.
The designated driver is responsible for his passengers – if there is an accident on the way, then the driver is most responsible for it. Apart from this, there is also some extra pressure on the driver, as he has to ensure that everyone reaches their destination on time and safely.
Who is carpooling for and who isn't?
If you are one of those people who do not have a fixed job or like to commute from work to home or work from home anytime, then carpooling is not right for you. But, if you want to avoid public transportation and don't like driving to work every day, then carpooling is the perfect option for you.
Keep these things in mind before carpooling
Check Driver's License and Car Insurance – Make sure before you travel whether the same driver will drive or change drivers occasionally. Also make sure that whoever drives the vehicle has an active driving license and car insurance covering the group.
Determine the cost to be shared – Create policies to finance your commute. If you are driving a rental vehicle, divide the fare plus the total cost of petrol/diesel by the total number of passengers. If you are driving your own car then add fuel mileage, vehicle depreciation, insurance and maintenance cost together.
Make sure the carpool will allow food – if you're looking to snack or drink coffee on the go, find out if everyone is comfortable with the idea. Some people may not like to smell the food of others or the driver wants to keep his car food free.
Find out if the carpool allows smoking – this issue can be divisive. So make sure that no one has any complaints about smoking. Many people do not like smoke and do not want to sit next to a person who smokes.
Make sure which route the car will take – When carpooling, make sure which route the car will pass. There is not much traffic or broken road on the road, so that you can reach the destination at the right time.
When did carpooling start?
Carpooling was first adopted by America as a rationing strategy during World War II . Ridesharing started during the Second World War through car clubs or car sharing clubs . Neighborhood councils were asked by the US Office of Civil Defense to encourage four workers to share rides in a car to conserve rubber for the war effort. Along with this , a ride sharing program was created in the name of car sharing club exchange and self dispatching system .
Carpooling made a comeback in the mid-1970s with the 1973 oil crisis and the 1979 energy crisis. At that time the first employee vanpool was organized in Chrysler and 3M . But after 1980, carpooling declined sharply, as oil prices had come down and a new option of work from home was also found.
But after 2015, the use of carpooling grew rapidly and now many tech companies are engaged in taking advantage of this opportunity. The main reason for its coming back is the technological advancement where now we have efficient and powerful algorithms which can match the supply and demand keeping in mind the different routes. The use of this service makes travel convenient and hence becomes a viable option for the consumers.
Difference Between Ride Sharing and Carpooling – Ridesharing Vs Carpooling
The similarity between carpooling and ride sharing is that people share rides with others. But there is a big difference between these two which you can see below.
Ridesharing– Ride sharing is a service provided by a company where the driver is an employee or contractor whose job it is to take people to their destination and he/she makes multiple trips in the city every day.
CarpoolingCarpooling is cheaper than ride sharing because the whole concept is to save fuel and build new relationships. The average distance behind a ride can be higher in carpooling as compared to ride sharing as most ridesharing is limited to city limits.
10 Carpool Apps in India – 10 Carpool Apps in India
1. BlaBlaCar
2. Uberpool
3. SRide
4. Ola Share
5. ToGo
6. Ridely
7. Zify
8. Quickride
9. Carpool by Meru
10. Ryde by Ibibo
Conclusion
I hope that the information I have told you, "What is Carpooling and its benefits?" Must have liked it. I have tried my best to bring all the information related to carpool to you so that you do not have to go to any other website regarding this topic.
If you liked this information or got to learn something new, then please share it on other social media networks .